The National Park of Eifel
Consisting of about 110 square kilometers, the Eifel National Park has been founded on the 1st of January 2004 and is the 14th national park in Germany. It is located in the central mountain range of the northern Eifel region.
This whole area has served as military training area "Vogelsang" for a period of 60 years. Water bodies, such as the rivers Urft and Rur, forests, such as the endemic and protected beech forests and the true wilderness are home for rare plant and animal species.
The parks motto is "Let nature be nature"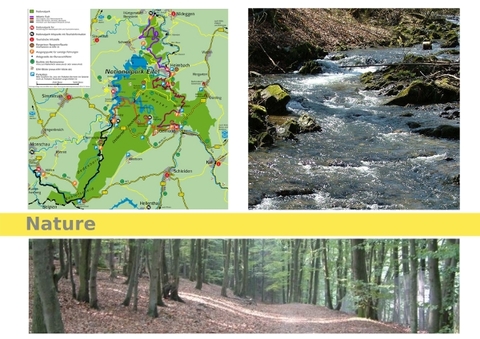 Ordensburg Vogelsang

In a 1933 Adolf Hitler demanded that new schools be built for the children of the leaders of his national socialist German labour party(NSDAP). The task was given to Robert Ley, the "Reichsorganisationsleiter", who undertook the construction and operation of four educational camps.
The construction of Ordensburg Vogelsang, was financed by expropriating trade unions and employers' associations. The contract for planning the Krössinsee and Vogelsang projects went to the Cologne architect Clemens Klotz.
The three buildings at Eifel have been known as "NS-Ordensburg" since 1935. The first phase of the project was the construction of the Castle of Vogelsang, which with up to 1,500 workers took only two years. Several much bigger buildings were also planned, such as a huge library to be called the "House of Knowledge" (Haus des Wissens) measuring 100 metres by 300 metres, a "Kraft durch Freude"-Hotel with 2000 beds, and the biggest sports facilities in Europe. Construction at the site halted on the outbreak of war.
Wollseifen
A place whose origins date to the 12th Goes back centuries, fell after the end of the 2nd War on the orders of the British occupying one training ground for military purposes to the victims.
The residents of Wollseifen were invited in August of 1946, their village within three weeks - until 1 To evacuate September 1946. Accommodations for the continued detention of Wollseifen population was not offered by the British occupying power, however. The inhabitants, who were the ruins of their homes after the 2nd War had again made up, driven from their village. Wollseifen was confiscated by the British occupation of hand.
Thus, the time shortly after the war ended, the survivors of the village, about 120 families (approximately 500 population) become homeless. Wollseifen her home village, which was developed over hundreds of years was destroyed by the British military, fired the houses on fire and eventually razed to the ground. Only a few buildings were rebuilded by the Belgian troops, who replaced the British.